Non surgical hair enhancement / PRP Therapy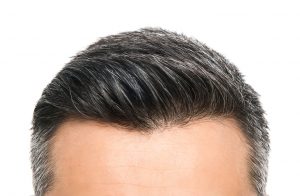 A minimal invasive treatment option to restore and strengthen hair growth is a PRP treatment (Platelet Rich Plasma) combined with strengthening vitamins optimised for your particular hair.
The cocktail, consisting of your body's own growing factors and vitamins adjusted to your needs is injected to your scalp with a mesotherapy. Hair growing is activated and restored.
How does the treatment work?
The ambulant treatment starts with applying a local anaesthetic cream and leaving it to work for 45 to 60 minutes. Meanwhile a blood sample is drawn just like for a lab test. This blood is purified, prepared and then mixed with the vitamins you need to promote and strengthen your hair growing. Finally, the cocktail is injected with tiny little needles into the numb scalp – thanks to the anaesthetic cream this is completely painless! Immediately after the treatment the skin will be reddish, but by the next day there will be hardly anything to see.
The treatment plan comprises a boost therapy of three sessions, each about three to four weeks apart and then freshening up treatment every four to six months.
Due to the slow growing circle of the hair, the first results will be visible only after a few months. This treatment is especially effective following the onset of hair loss or for localised areas of alopecia (hair loss) but cannot restore a bald head.
Would you like to learn more? + 34 696 922 398 or info@drhamers.com