Botulinum Toxin Treatment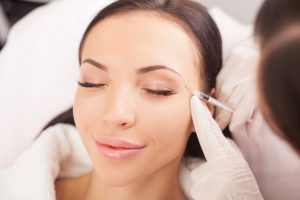 Botulinum toxin can paralyse mimic muscles to treat or prevent wrinkles or treat excessive sweating (hyperhidrosis) and migraine. BOTOX ® is a registered trademark of one of many botulinum toxins available, commonly used for a treatment with botulinum toxin. The treatment consists of injecting minimal doses of botulinum with tiny needles in the area being treated. It will be a few days and possibly up to one week before the patient sees an effect, but thereafter it will last for three to six months. Perfect indications for Botulinum are the frown lines (in-between the eyebrows), crow's feet (wrinkles due to laughing around the eye) and lines on the forehead. Other treatment possibilities are marionette lines (beside the mouth), a gummy smile (showing too much of the gum above the tooth when smiling) or wrinkles on the chin.
Some patients are afraid that this kind of treatment will produce a mask-like face, but this is not so! Well carried out Botulinum treatment performed by an experienced plastic surgeon treats just the wrinkles that are bothering you, preserving your individual mimic!
Other treatments are hyperhidrosis, excessive sweating of axilla, palms and sole of the feet.
After treatment, the normal daily routine can be continued, but you should refrain from sports, workout and going to the sauna on the same day.
Would you like to learn more? + 34 696 922 398 or info@drhamers.com